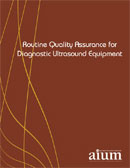 Routine Quality Assurance for Diagnostic Ultrasound Equipment
This document outlines a basic quality assurance (QA) program for clinical ultrasound facilities. Sonographers, physicians, or other technical staff, including medical physicists and biomedical engineers, can carry out these procedures easily. The QA procedures outlined are intended to address requirements for QA in the clinic set forth by laboratory accrediting agencies. This document will list QA procedures that may be followed when setting up and maintaining an equipment QA program.
(2008, 6 pp) ISBN 1-932962-12-3
This item is only available as a PDF.
AIUM members may download the PDF of this publication for free in the Resource Library.
Member: $0.00 / Nonmember: $60.00