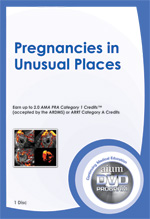 Pregnancies in Unusual Places
This program presents a review of 645 cases in the literature using 28 different treatment approaches, including 89 misdiagnoses and 245 severe complications, many ending with laparotomies and hysterectomies. Our own experience with 24 such pregnancies and successful and uncomplicated local intragestational puncture injections of methotrexate with transvaginal sonographic guidance are included. The learner attributes are patient care, medical knowledge, and practice-based learning and improvement.
Course Faculty: Peter Doubilet, MD, PhD Ana Monteagudo, MD, RDMs Ilan Timor-Tritsch, MD
Earn 2 CME credits. CME credits and DVD program currently available through August 1, 2020.
Also available for purchase as
streaming video
.
Preview an excerpt of this video here.
The online
CME test
is $15 for AIUM members, $80 for nonmember physicians, and $40 for nonmember sonographers and nonphysicians.
Member: $150.00 / Nonmember: $150.00