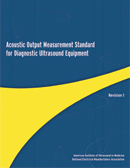 Acoustic Output Measurement Standard for Diagnostic Ultrasound Equipment--Revision 1, 2004 (NEMA UD 2-2004)
This publication, a joint venture of the AIUM and the National Electrical Manufacturers Association, describes a set of measurement procedures for ultrasonic output parameters. It sets forth precise definitions of quantities, primarily those relating to acoustic output levels, and specifies standard procedures for measuring the pertinent acoustic output parameters.

(2007, 134 pp) ISBN 1-932962-01-8

Available as a hard copy publication or pdf file.
Member: $33.00 / Nonmember: $66.00