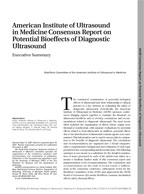 AIUM Consensus Report on Potential Bioeffects of Diagnostic Ultrasound
As part of the ongoing effort to assess the safety of diagnostic ultrasound, the AIUM sponsored a conference of experts to evaluate the evidence associated with the bioeffects of ultrasound. This document provides an overview of the scientific information, summary statements, recommendations, and conclusions concerning the safety of diagnostic ultrasound. The panel analyzed issues related to both thermal and mechanical effects of ultrasound with respect to different applications, including fetal imaging and contrast agent use. Printed in the April 2008 issue of the Journal of Ultrasound in Medicine.
(2008; 30 pp) ISBN 1-932962-09-3
AIUM members may download the PDF of this publication for free in the Resource Library.
Member: $38.00 / Nonmember: $76.00